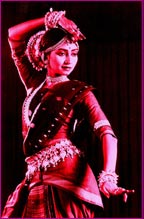 A multitalented dancer & choreographer, Papiha has created a remarkable body of choreographic work in the last three decades, which has been performed & presented globally.
Initiated into dance by her choreographer-dancer parents, Shri Yog Sunder & Smt. Geetasree Desai, Papiha trained in Odissi under the doyen Guru Mayadhar  Raut for 2 decades. Papiha has been intrigued by the muti cultural diversity of dance forms in India since an early age, which led her to learn Kuchipudi under Smt. Swapna Sundari & Smt. Seetha Nagajothy and martial forms of Mayurbhanj Chhau under Shri Olekh Niranjan Bisoi and Kalari payattu under Shri Narayanan Embranthiri in Kerala. With the Indian Revival Group she had the opportunity to explore the diverse traditional forms of India & the creative genre of Indian dance. Her passion for dance fuelled her desire to learn techniques of modern dance, choreography & improvisation under American choreographers & South East Asian Dance Forms under a special project.
Papiha has performed & presented her work across India, USA, Canada, Trinidad & Tobago, UK, France, Muscat, Reunion, Nepal, Vietnam, Thailand, Malaysia, Singapore, Indonesia, Korea & Japan.
She has conducted lecture demonstrations & workshops in prominent schools of Delhi as Dance Consultant for Times of India's education
program for several years.
Papiha has created an impressive body of choreographic work which includes:
Cultural festival of India in USA for Akshardham Sanstha in 1991
Nrityotsav & Kathotsav for Vision of India, USA in 1993 & 1994
Meera, Krishna Katha & Ram for Shriram Bharatiya Kala Kendra in 1995, 1997 & 1999
Mahishasuramardini in 1996, which was recorded by CPC, Doordarshan & telecast on the national network during Dussehra several times.
Shree Radha in 1998
Lakshmibai in 2000
Choreography for TATA, performed before Shri Ratan Tata in 2002
Images- choreographic work in Odissi for HCL Concert in 2003, which was also performed at the launch of Indian oil technologies & travelled to Moodbidri for the Virasat Festival in 2004.
Yatra in 2004
Indian Odyssey in 2005, which travelled to the Muscat Festival in 2006.
KalaYog & Samagam in 2007 with live telecast by DD.
Anandotsav in 2008.
Incredible India in 2008 performed at International conferences.
The Rising in 2009, premiered at Sangeet Natak akademi's Choreography Festival in Mumbai.
In recent years, she has chosen to lend continuity as Choreographer-Director of the Indian Revival Group to the great work done by her illustrious father, Shri Yog Sunder Desai.